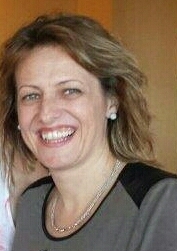 Dr Maria Papadakaki (BSW, MPH) is a assistant Professor at the Department of Social Work, Faculty of Health Sciences and Welfare, at the Hellenic Mediterranian University. She obtained a first degree in Social Work, holds an MPH and a PhD from the Faculty of Medicine, University of Crete.
She has been the Director of the Laboratory of Health and Road Safety (LaHeRS) since 2015 and serves as the President of Gender Equality Committee of the Hellenic Mediterranean University, since 2022. At European level, she serves as the president of Injury Prevention and Safety Promotion section of the European Public Health Association (EUPHA) since 2020 and has also been elected as a member of the advisory board of the European Forum for Primary Care (EFPC) in 2021.
She has been teaching in five Master Degree Courses (MSc); two offered by the Hellenic Mediterranean University in "Social Work Interventions at Crisis Situations" and "Advanced Clinical Practice in Health Sciences" and three Master Degree Courses offered by the Faculty of Medicine, University of Crete in "Public Health and Health Care Management", "General Practice and Primary Health Care" and "Emergency and Intensive Care in Children Adolescents and Young Adults". She has long teaching experience in continuing educational programmes targeting primary care providers and other health care professionals in Greece.
She has received training in Participatory Learning and Action Research (PLA) by experts of the Centre for Participatory Strategies (CPS) of Galway, Ireland. She has been involved in the validation of tools for primary health care, she has designed and carried out training for primary care providers on issues of sexual health and aggressive behaviour and she has been systematically involved in health policy research regarding primary health care (see work indexed in PubMed).
Besides her research activity, she has served as a member of various local and national councils and committees (i.e.ministerial advisory groups, municipal advisory committees, regional government advisory committees, professional union councils, etc.). Among other positions, she has served as a member of the council of the Regional Council of Social Workers (SKLE) in Greece for many years. She has also served as a Member of the Ministerial Scientific Committee for the Greek Primary Care Reform organised by the Ministry of Health and Social Solidarity (Ministerial Decree 1δ/71967/31-07-2013).
At European level, she is affiliated with various European networks active on GBV ("WONCA Sigfv / Special Interest Group on Family Violence", "EFJCA / European Family Justice Centre Alliance", "OVUN / University Network challenging sexual violence against children"). She is accustomed to working at an international level and has project management expertise due to her involvement in several research projects on an EU and national level (e.g. FP6 project "HAPPY AUDIT" (SP5A-CT-2007-044154); FP7 project "RESTORE" (FP7-RESTORE-257258); FP7 project "OTC SOCIOMED" (FP7-OTC SOCIOMED-223654); Health Programme "Y-SAV" – Executive Agency for Health and Consumers (EAHC); (DG SANCO – Youth Sexual Violence – 2009 12 22); CHAFEA – EUropean Refugees-HUman Movement and Advisory Network "EUR-HUMAN"; "ORAMMA: Operational Refugee And Migrant Maternal Approach" '738148' / European Union's Health Programme (2014-2020); "LDV project (LLP-LdV-TOI-2007-TR-008), DG MOVE programme "REHABIL-AID" (MOVE/C4/SUB/2011-294/SI2.628846/REHABIL-AID), DAPHNE III programme "COMMUN-AID" (JUST/2011-2012/DAP/AG/3272), "WOM-POWER" (JUST/2011-2012/DAP/AG/3008). She was nominated as the national representative in a COST action funded by the European commission (COST ACTION TU1101). She has co-authored a number of research papers in well-established peer-reviewed journals in Greece and abroad, primarily on primary health care, sexual health and intimate relationships and migrant health (see more in ISI/PubMed).