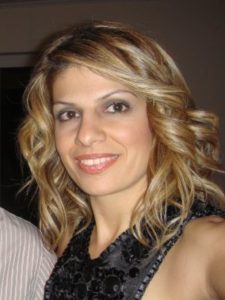 Ms Pagona Maragkaki graduated from the Department of Social Work of the Technological Educational Institute (TEI) of Crete in 2002. She has worked at the Open Protection Centre for the Elderly (KAPI) of the Municipality of Heraklion for two years (2002-2004) and for the ʺHelp at Homeʺ programme of the Municipality of Nea Alikarnassos for three years (2004-2007).
In 2011, she obtained her Master degree in Public Health & Health Care Management and in 2015, she acquired a Certificate of Pedagogical and Teaching Competence from the University of Crete.
From 2007 until 2014, Ms Maragkaki had been working as a laboratory collaborator at the Department of Social Work. From 2014 until 2015, she had been working as a research assistant at the Laboratory of Health & Road Safety (LaHeRS) of the TEI of Crete. She has participated in various European programmes as well as in training and awareness-raising programmes related to abuse and road safety.
Now, Ms Maragkaki works for the social service of the Hellenic Red Cross and develops action plans for socially vulnerable groups. She also develops action plans for awareness raising, training and supervision of voluntary force, which aim at the preparation and readiness in crisis situations.