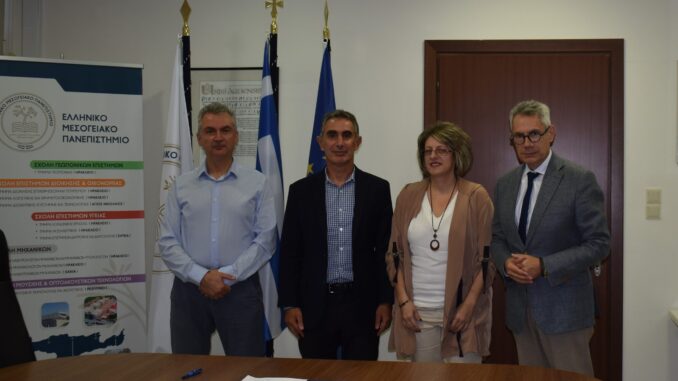 A cooperation protocol was signed between the Administration of the 7th Health Region of Crete and the Hellenic Mediterranean University (HMU), through the Laboratory of Health and Road Safety (LaHeRS) of the Department of Social Work, on Monday, November 13, 2023 in the Conference Room of the Rectorate.
On the part of the Hellenic Mediterranean University, present at the meeting were the Rector, Prof. Nikolaos Katsarakis, the Vice-Rector for Academic Affairs, Student Affairs and Lifelong Learning, Prof. Fotios Mavromatakis and the Director of the Health and Road Safety Laboratory, Associate Prof. Maria Papadakaki. The 7th Health Region of Crete was represented by the Governor, Mr Nektarios Papavasileiou and the Head of the Department of Planning, Development, Political Provision of Health Services Mrs. Emilia Magnanaraki.
The purpose of the cooperation protocol is the development of an information system, which will collect information on the incidents of trauma and accidents that present at the Emergency Departments (ED) of the public hospitals and health centers of Crete. This information system will operate under the umbrella of the already existing Health Management Information System under the name "Panakeia", which electronically connects the Hospitals of Crete.
The reasoning behind the above initiative is the fact that since 2014 Greece has not contributed data to the European Injury Database (IDB), which contains standardized cross-national information on external causes of injuries treated in Emergency Departments of EU hospitals. This database was created within the framework of the EU's "HEALTH" program during the period 2008–2013 with the aim of improving the methodology of injury data collection in Europe and up to this moment, this is the main mechanism for epidemiological surveillance of injuries in the EU and the main source of EUROSTAT information regarding injuries (together with general fatal injury statistics and specific registers of road and occupational accidents).
On the part of the Hellenic Mediterranean University, the Laboratory of Health and Road Safety (LaHeRS) of the Hellenic Mediterranean University will be in charge of the Memorandum of Cooperation and its Director, Dr. Maria Papadakaki, associate professor, will be responsible for the specialization, monitoring and implementation of the protocol..